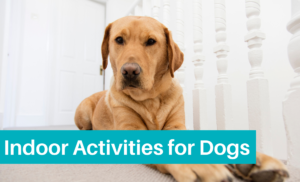 It's that time of year when the weather is either too cold or too rainy for the amount of playtime your dog needs. It's still important for your dog to get the physical and mental stimulation they need. We've compiled some tips to help get your dog busy and active indoors.
Scavenger Hunt
All you'll need is some of your dog's favorite treats broken into pieces. Hide the treats throughout your house and let your dog sniff them out. This is a great way to get your dog active. Want to make it more difficult? Try hiding treats in the dog toy box or roll them up in a towel. If you think your dog may not be into tracking the treats throughout the house, you can always put them in a box with some paper or fabric. They are still stimulated by digging them out. Here is one of our favorite options if you want to get fancy with the treat scavenging.
Food-Stuffed Toys
You can easily make a "pupsicle" by filling a hollow chew toy with wet food and popping it in the freezer. Toppl and Kong toys work well for this. There are lots of recipes online posted by other pet parents or you can create your own for filling the toys to mix it up. Another fun option is adding fruits or vegetables. Check here for a list of dog safe fruit and veggies.
Obstacle Course
Use items from around your home and an open space like a basement to build your pet their very own obstacle course. Try using items like cardboard boxes, brooms, or an ottoman. If your dog really gets into it, you can even purchase obstacle course equipment. The next time your dog gets the zoomies, you'll be ready to tire them out or they can enjoy the mental stimulation of obstacle course training.
Hire a Dog Walker
Alright, so what about you? Your pet still wants to get outside but you look out the window and dread stepping outside. That's where we can help. We love walking dogs, rain or shine. It's our job! If you are dreading the winter walks or Springtime showers, hire a dog walker to give your dog all the exercise and fun they need without worrying about the weather. Find out more about our dog walking services here!